Squirt is the protagonist of Miss Spider's Sunny Patch Friends. He is a green spider.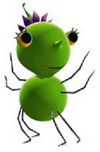 Biography
Squirt is considered to be the lead character and appears in more stories than any of the others. He enjoys websurfing, and even dreams of flying like Shimmer or Dragon. He is often ready to take the lead in an adventure. Squirt is a lovable, curious and daring spider who will do anything to save his friends from harm. Squirt often tells "little white lies", trying to impress his siblings and friends, but they often end up causing him more trouble than benefits. No matter what, Squirt is willing to do anything exciting, sporty, or "web surfingy", as he calls it.
Official Description
"Squirt is a kid with a ton of spunk and healthy dose of wide-eyed wonder. He's one in spider years, which is about six in "kid years." Even though he's just a kid, he doesn't let fear keep him down. At his call of "Bugs awaaay!" his little legs are raring to scurry on an adventure. He's a natural born leader with a big heart."
Languages
Brazilian portuguese: Esguicho
Castilian spanish:
European portuguese: Esguicho
French: Spido
German: Spratz
Italian: Guizzo
Latin american spanish: Pillín
International voice actors
Brazilian portuguese: Gustavo Pereira
Castilian spanish:
European portuguese: Carla García (Santa Claus)
French: Carole Baillien
German:
Italian: Gaia Bolognesi
Latin american spanish: Melanie Henríquez
Trivia
Squirt's favorite ice cream flavor is Roachy Road.
He can imitate any voice perfectly as seen in Mr. Mocking-Bug.
He can sing very beautifully.
Of all his siblings, he seems to be the closest to Shimmer.
He is known to be very ticklish in No-See-Um is Believin'!.
Looks
Squirt is mostly a kiwi green colour, with amethyst purple legs and yellow spots on his back. He wears a green-and-purple hat made from a flower. His eyes are chartreuse with black pupils.
Appearances
Squirt appears in almost every episode of the series, most of which he is the main focus. He first appeared in the TV movie, Miss Spider's Sunny Patch Kids. His first official appearance was in the series' premiere, I'll Fly Away, and his last appearance was in the series finale, Cob Fog. He is absent in several episodes; his first absence is in Stalking the Beanstalk and his final absence is in A Beetle-Ful Family.
Gallery