Welcome to Sunny Patch Wiki,
The free encyclopedia about Miss Spider's Sunny Patch Friends that anyone can contribute to.
We are currently editing 359 English articles since our launch on October 20, 2010. 5,830 total contributions have been made.
Meet the Cast
Featured Episode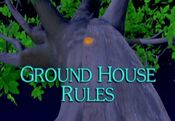 Ground House Rules
Ground House Rules is an episode of Miss Spider's Sunny Patch Friends from season one. It first aired on February 14, 2005.
In this episode, the kids' parents decide to make a ground house for everybuggy after Bounce and Dragon interrupt a game of Bug Bridge (and destroy the family's table). Dragon makes up a set of rules for everyone to follow when playing in the ground house, but he eventually becomes too bossy.
Featured Character
Ned the Ant
Ned is a recurring character in the Miss Spider's Sunny Patch Friends series.
Description: Ned is a red ant and the brother of Ted. He has several strands of straight red hair between his antennae, unlike his sibling. Ned always appears alongside Ted and speaks with a Cockney accent. Both Ned and Ted are always attempting to find food, even if it means cheating and lying to Squirt and friends.
Looks: Ned is mostly a red colour. He has two antennae, a pair of clear eyes with a reddish tint, and six legs (two of which he uses as arms).
Appearances: Ned appears in many episodes of the Miss Spider's Sunny Patch Friends series. He debuted in Bug Your Mom Day, the third episode of the series.
Featured Video
Our Affiliates!
Click on a logo below to visit one of our affiliates!